Culture of Yoga – Kirtan with Mukunda Datta
July 10, 2015 @ 7:30 pm

-

9:00 pm

|

$8 - $10
Event Navigation
Please join us in welcoming Sri Mukunda Datta to Mountain View!
Visiting us as part of his nationwide tour, he will share the Culture of Yoga and how Kirtan forms its basis.

7:30 pm to 8:40 pm – Kirtan Yoga with Sri Mukunda Datta
8:40 pm to 9 pm – Yoga Dinner (Wholistic, Vegan Friendly)

Venue: Mountain View Community Center, 201 S Rengstorff Ave., Room #3


Buy tickets either by Paypal, Credit or Debit Card, and support our Kirtaneers: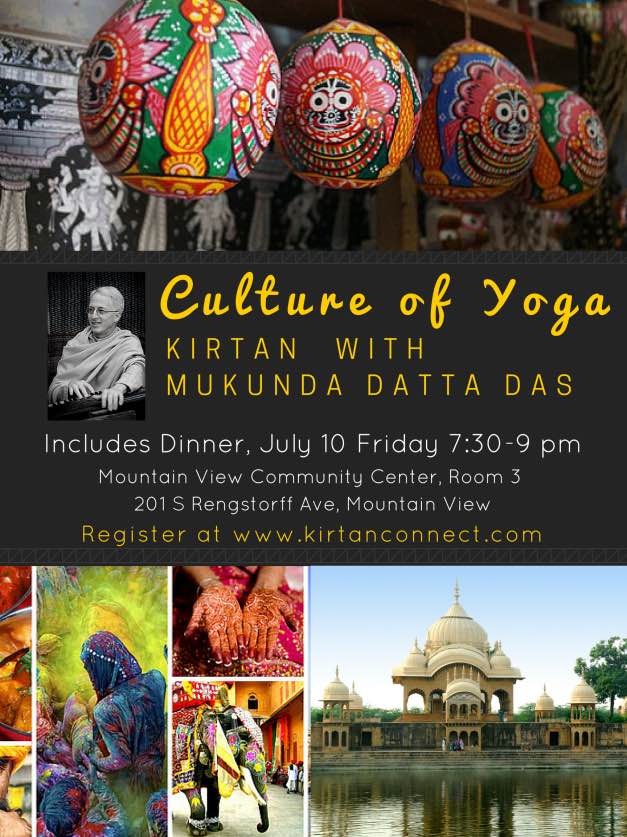 In recent years, call-and-response kirtan chanting has exploded in popularity alongside yoga's rise to acclaim. It increases vitality, soothes the soul, and expands meditation. It is a joyful practice that calms the mind and opens and purifies the heart. Kirtan, the music of the heart, is the calling of the soul; a blissful musical journey to invoke divine presence. No previous experience is necessary.
---
:: ABOUT MUKUNDA DATTA ::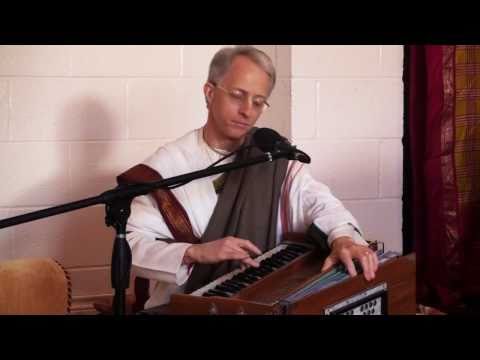 Sri Mukunda Datta däsa is an ardent student of Swami Bhaktivedanta. He was attracted to the bhakti tradition some 35 years ago, deeply impressed by the comprehensive, authentic, and nectarean presentation of the science of Bhakti-Yoga (the art of Eternal Love and Service), as clearly explained in the many books by Swami Bhaktivedanta.
Noted for his kirtana (devotional singing), Mukunda Datta has received formal training in North Indian classical music, sings and plays instruments in traditional Bengali style of kirtana, and has made several recordings of Sanskrit and Vedic vernacular hymns. Currently he serves as a Sanskrit translator and editor for the Bhaktivedanta Book Trust (BBT). He is a scholar of Sanskrit, Hindi, and other Indic languages. He has traveled widely, spoken for many years on Vedic literature such as Bhagavad-gitä and Srimad-Bhägavatam. He is based at Govardhana (Mathurä, India).
---
Kirtan is an ancient call-and-response yoga of sound vibrations. Kirtan is a very simple and powerful way to meditate. It's effortless & joyful. The music does the work for you as you flow with the melody & rhythm. In call and response style – the leader sings the mantra and the crowd responds, creating a dynamic, uplifting experience for all.
No musical experience required! You don't have to be able to sing in tune either. Just bring a desire to revitalize your mind and awaken your essential self.

---
RSVP for Event (Pay at Door):