The Art of Eternal Love — Dinner and Kirtan with Mahat Tattva
February 12, 2016 @ 7:30 pm

-

9:00 pm
Enter into the realm of eternal love, through music mantra and meditation. We have a super nice and warm kirtaneer, all the way from San Diego, coming to take us through a transformative experience!!
A Bhakti Lounge offering for the Soul and the Body!

7:30 pm to 8:00 pm – Vegan Goodness Dinner
8:00 pm to 9:00 pm – Mantra Meditation and Kirtan Yoga

Venue: Fantasy Dance Studio, 2584 Leghorn Street (Suite B),
Mountain View, CA 94043


Pay either by Paypal, Credit or Debit Card: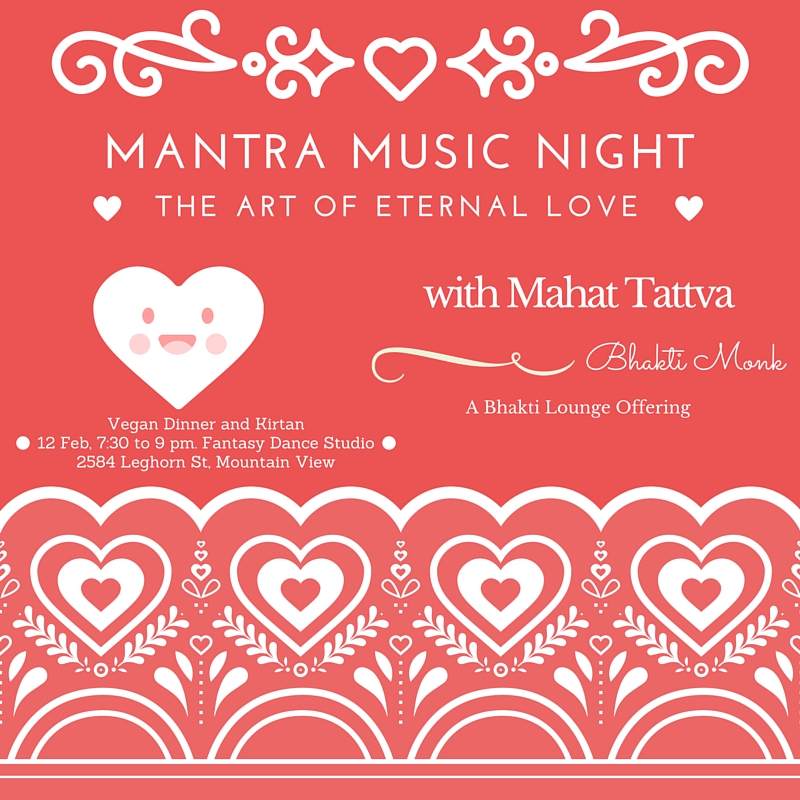 :: About Mahat Tattva Dasa ::
Mahat Tattva originally from Croatia, joined an ashram at the age of 20 and has been a monk for around 19 years. A California resident since 1999, Mahat Tattva has been organizing various dynamic projects such as Krishna Lounge (http://www.krishnalounge.com) and a traveling spiritual oasis called Pilgrim's Lounge (http://pilgrimslounge.com). He is also the editor of 16 Rounds to Samadhi (http://www.16rounds.com), an independent publication promoting alternative and spiritual culture. Mahat Tattva is a personable individual who is able to share ancient wisdom in a modern way.
---
Kirtan is an ancient call-and-response yoga of sound vibrations. This is a gathering of open-minded souls for call and response chanting. The practice of kirtan/mantra meditation is a process of bhakti (devotional) yoga. The practice has a powerful heart-opening effect which is best understood through direct experience. Traditional instruments used in the kirtan are harmonium, mrdanga(drum), and kartals(hand cymbals).
Come, relax, and unwind in a friendly atmosphere. Listen/observe, or sing your heart out!
No musical experience required! You don't have to be able to sing in tune either. Just bring a desire to revitalize your mind and awaken your essential self.
RSVP for Event: