Energy Up, Stress Down — Kirtan to the Rescue!
January 15, 2016 @ 7:30 pm

-

9:00 pm
Bay Area's own Kirtan Connect presents food for the Soul and the Body!

7:30 pm to 8:00 pm – Yoga Dinner for the body (Wholistic & Vegan)
8:00 pm to 9:00 pm – Mantra Meditation and Kirtan Yoga

Venue: Fantasy Dance Studio, 2584 Leghorn Street (Suite B),
Mountain View, CA 94043


Pay either by Paypal, Credit or Debit Card: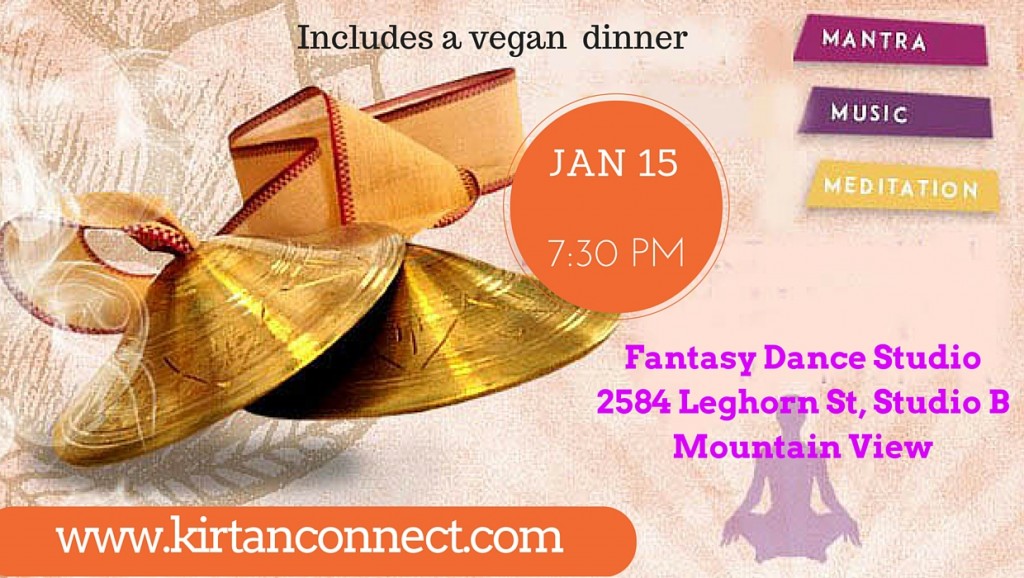 Kirtan is an ancient call-and-response yoga of sound vibrations. Kirtan is a very simple and powerful way to meditate. It's effortless & joyful. The music does the work for you as you flow with the melody & rhythm. In call and response style – the leader sings the mantra and the crowd responds, creating a dynamic, uplifting experience for all.
In recent years, call-and-response kirtan chanting has exploded in popularity alongside yoga's rise to acclaim. It increases vitality, soothes the soul, and expands meditation. It is a joyful practice that calms the mind and opens and purifies the heart. Kirtan, the music of the heart, is the calling of the soul; a blissful musical journey to invoke divine presence. No previous experience is necessary.
No musical experience required! You don't have to be able to sing in tune either. Just bring a desire to revitalize your mind and awaken your essential self.
---
RSVP for Event: