Holiday Dinner & Kirtan with Yugal Kishore
December 18, 2015 @ 7:30 pm

-

9:15 pm

|

$8 - $10
We are pleased to present a very enchanting evening @ the Bhakti Lounge, these Holidays!
A special Kirtaneer, all the way over from the East Coast – Yugal Kishore das!
He is also a Bhakti Monk, Life Coach and Meditation Counselor! And has been practicing kirtan, meditation and the yoga philosophy for almost 2 decades and more.
Plan for the evening:

7:30 pm to 8:00 pm – Goodness Dinner (Veggie and Vegan, Home-made, by our Conscious Members)
8:00 pm to 9:15 pm – Mantra Meditation, Christmas Kirtan and Bhakti Stories with Yugal Kishore

Venue: Fantasy Dance Studio, 2584 Leghorn Street (Suite B),
Mountain View, CA 94043


Buy tickets either by Paypal, Credit or Debit Card, and support our Kirtaneers: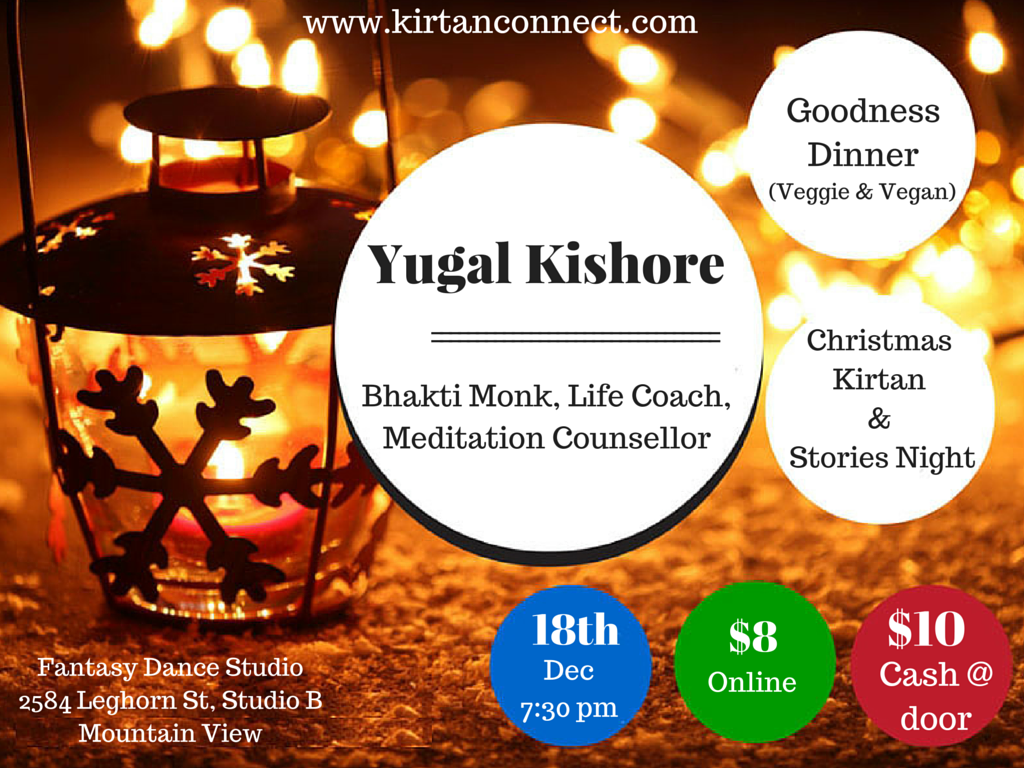 Begin your holidays and the festive Christmas season, with an enchanting and uplifting Kirtan Night @ the Bhakti Lounge! We look forward to seeing you.
Please RSVP below.
:::: More Info ::::
Kirtan is an ancient call-and-response yoga of sound vibrations. Kirtan is a very simple and powerful way to meditate. It's effortless & joyful. The music does the work for you as you flow with the melody & rhythm. In call and response style – the leader sings the mantra and the crowd responds, creating a dynamic, uplifting experience for all.
In recent years, call-and-response kirtan chanting has exploded in popularity alongside yoga's rise to acclaim. It increases vitality, soothes the soul, and expands meditation. It is a joyful practice that calms the mind and opens and purifies the heart. Kirtan, the music of the heart, is the calling of the soul; a blissful musical journey to invoke divine presence. No previous experience is necessary.
No musical experience required! You don't have to be able to sing in tune either. Just bring a desire to revitalize your mind and awaken your essential self.
---
RSVP for Event: